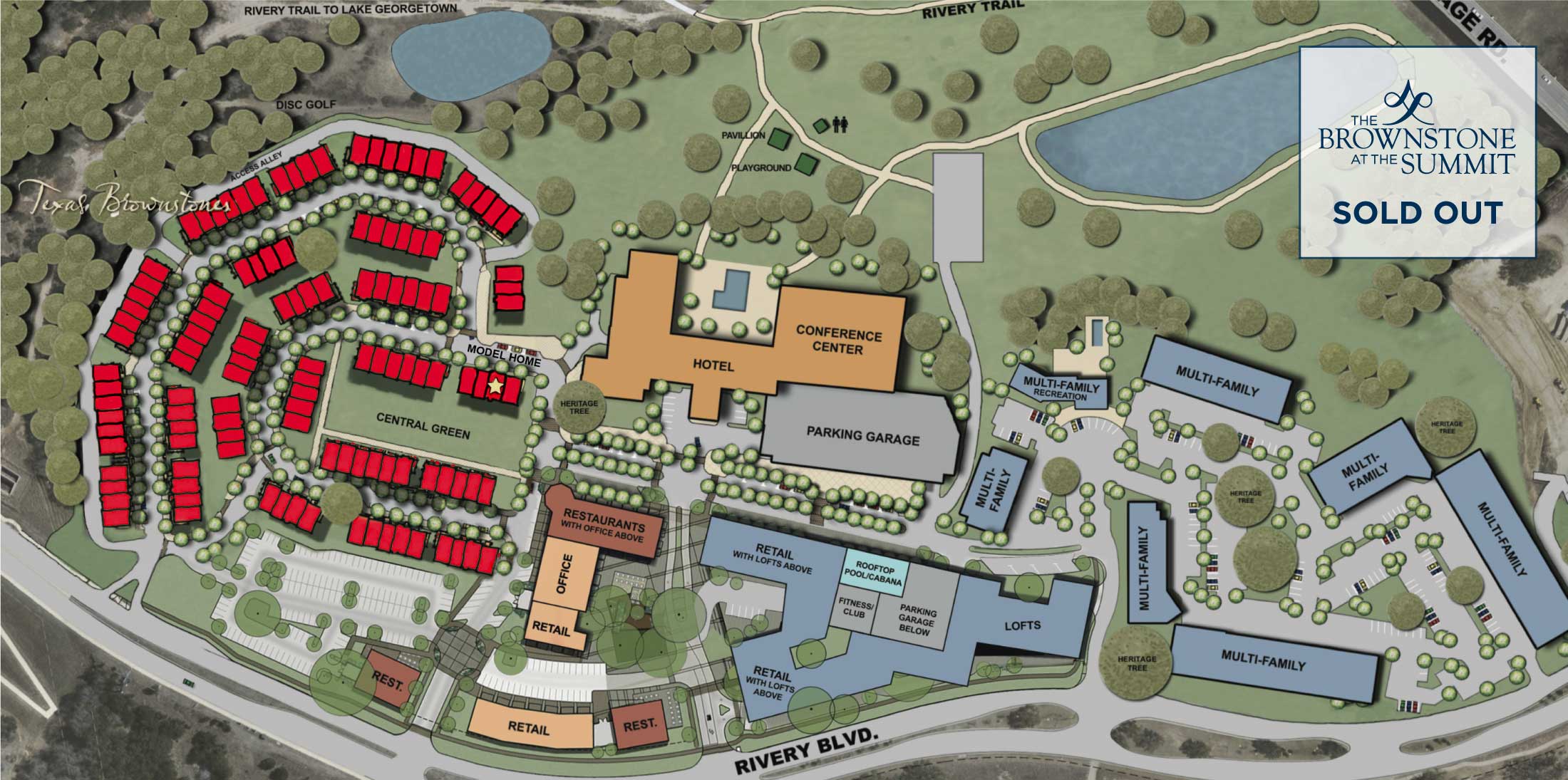 The Summit at Rivery Park Master Plan
The Summit at Rivery Park is anchored by our beautiful 4-Star Sheraton Austin Georgetown Hotel and Conference Center. Interconnected by a central walkway, we will add an additional a mix of upscale offices, retail, restaurants, lofts, and our award-winning Texas Brownstone™ homes.
As a true 360-degree development, close attention to detail and design is being given to creating convenient and attractive entrances from the streets, the central walkway, and the City park connected to this beautiful property.
Master Plan Features Include:
Hotel/Conference Center
The beautiful Sheraton Austin Georgetown Hotel and Conference Center opened July 28, 2016. Sheraton Austin is a Starwood managed, 225 room 4-Star Hotel. The conference center has a total of 30,000 sq. ft. of meeting space anchored by a 16,000 sq. ft. Grand Ballroom, executive meeting rooms and pre-function space.
Rivery Park Luxury Apartment Homes
223 luxury apartment homes offer more than just the perfect location. These residences combine home, work, dining, and entertainment as well as quick and easy access to 25 miles of hike/bike trails. Opened in 2015, these high-end apartments allow for residents to enjoy all that the Summit at Rivery Park has to offer.
Texas Brownstones™

Community Closeout—Final Opportunities
121 unique, single-family custom urban homes are featured in this community where residents return to a time when families would walk to dine, shop within their neighborhood and play within city parks. The neighborhood friendly environment is enhanced by wide sidewalks, street trees, walk-ability to boutiques, cafes, spa, 4- Star hotel, and 25 miles of hike/bike trails with access to the Most Beautiful Main Street in the Country… historic Georgetown. Private rooftop patios are accessible by each owner's private elevator. All this…right outside the resident's front door.
Visit the Texas Brownstones™ website to learn more
Restaurants
Unique local and regionally owned restaurants and cafes, bistros and specialty food services line The Summit's central pedestrian walkway.
Office Condominiums
Pre-leased with state-of-the-art designs and services offer tenants the most luxurious and visually appealing business location in the region.
Supporting Specialty Retail
High-end boutique shopping and services, with accommodations for specialty grocery and/or food services, make The Summit a true mixed-use development with places to work, live and play.
Outdoor Areas
The Summit's outdoor gathering spaces with mature oak trees, water features, historical vignettes and art installations will make the development a sought-after, regional destination spot for both residents and visitors to linger and enjoy.
Parking Structures
The Summit at Rivery Park has both surface and structured parking for tenants and visitors.
Rivery Park Integration
Through a partnership with the City of Georgetown, The Summit is being integrated with improvements to the existing Rivery Park, including fountains and pond enhancements, larger restroom and concession facilities, a splash pad and playground for kids, and riparian restoration to improve river views.